A Chair for Fred -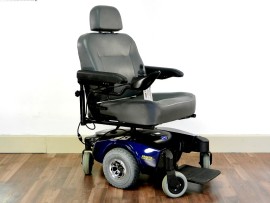 By Gerry Barney, Medical Equipment
Fred and Erma came to us in need of a power wheelchair. He was 83 with both heart and kidney disease, going to kidney dialysis three times a week. Transporting him to his appointments was working a hardship on them as he did have the stamina to walk longer distances, such as from their car to his dialysis appointments. While Fred weighed approximately 160 pounds, Erma in her 80's as well, weighed less than 80 pounds! Consequently, she did not have enough strength to push him in a wheelchair.
Because Fred could get around inside their home, he did not qualify for a power wheelchair; so when they heard about Bridge Ministries from the Kidney Center, they came to see what types of power wheelchairs we had. We found a Pronto M51 that worked great for them, and we delivered it to their home the following week.
Fred and Erma are looking forward to an easier time getting to dialysis and are also happy for the ability to enjoy the simple pleasures of doing things outside their home.