Margaret's Miracle -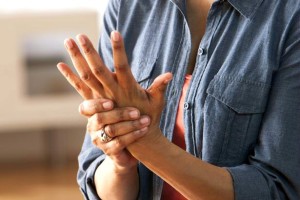 Margaret came to us in tears, collapsing on the seat of her walker after struggling through our doorway. Once she caught her breath and gained control of her emotions, she began to tell us about her need for a power wheelchair…
At just 48, she is severely disabled from both Rheumatoid Arthritis and Osteoarthritis. With the aid of a walker, it takes her 15 minutes to go just one block and cross the street to get to the bus stop closest to her home. Crossing a street at a stop light is an extra challenge as she can only make it half way across before the light changes. If she pays heed to horns (sometimes with profanity) and tries to hurry, she risks falling, which would be catastrophic in her condition. She simply has to keep concentrating on her walking, being as careful as she can.
Margaret longed to spend time outside, see friends and, of course, make doctors' appointments, and it was obvious a power wheelchair would make life both easier and safer.
She had applied to Medicare/Medicaid/DSHS many times, but been repeatedly turned down because while her need was clear, the standard to qualify for insurance to cover a power wheelchair is that the chair must be essential for getting around inside her home. Since Margaret could walk short distances inside with the aid of a walker, a doctor could not prescribe one for her and receive approval.
However, thanks to a generous donation of a chair by a family who lost a loved one, and financial donations that covered the cost of batteries, Bridge provided her with a chair and new batteries. It was nothing short of a miracle in her eyes. The retail value of the chair she received was $36,000, and it featured an electric tilt, power leg rests, and a reclining back to help relieve pain from being in one position too long as well as to help with her circulation. With disability income at $700/month and rent at $346/month, she could have never hoped to afford even batteries for the chair. The satisfaction of watching her quickly learn how to use the chair, seeing her joy and excitement grow as she became confident controlling it, was more than enough of a donation from her.
Margaret's story is not the only one like this: in 2015, we distributed over 130 power wheelchairs and power scooters to people in need, who could not afford them or qualify for insurance to purchase them. Our heartfelt thanks goes out to those who make miracles like this possible, as well as to the kind stranger who took the time to stop and tell Margaret about our Medical Equipment Center.