The Gift of Time -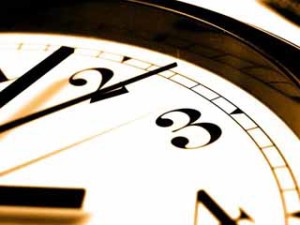 By Gerry Barney, Medical Equipment
A mother came in with her daughter and 3-year old son looking for a pediatric stroller. Her son had cerebral palsy and had outgrown his infant stroller. With the daughter acting as translator, we settled on a sturdy, hi-end stroller with a seat that could both tilt and recline. It was also equipped with a rain/sun cover, tie downs for public transportation, an adjustable/expandable seat, plus back and leg rests. It would be able to fit him for years to come, and seemed to be just what they needed. However, it was missing a portion of the harness system which was needed to help hold him in the chair if he began to struggle with the seat. We asked for a few days to find a harness system and finish getting it ready.
A few days later when they returned, there were about three people ahead of them. I directed them to where the stroller was and continued helping the people I was working with. Eventually, I looked over to the side and was surprised to see they already had him in the stroller. Everything fit perfectly! To top off the happy scene, their little guy had a huge smile on his face and was by all means thoroughly enjoying his visit. As I finished helping the next person in line, I got them started on their paper work. By the time I got back to them, quite a few more people had come in and were waiting their turn. One group was a pair of women from the Redmond area; they were enjoying the show the little boy was starring in.
The family had a small passenger car, and the stroller (in addition to being somewhat large to accommodate all its features) did not fold. We discussed how to get it their home in Renton – calling on a relative with a pickup truck, or the possibility of us finding a way to bring it to them in a week or so while we were making donation pick-ups. Having worked several hours to get into the best possible condition for them, we did not want it to get soaked with rain and spray from the roadways in the back of a truck.
Suddenly, the ladies who were next in line interrupted us to say that they had a van and wanted to help the family get it back to their home. The ladies were insistent, saying they would be blessed to have the opportunity to be a blessing to someone else. So rather than get the equipment they had come for that day, they gave up their place in line to do a good deed instead. The mother and daughter were quite grateful once they knew the women really wanted to give of their time.
But, what would happen if they became separated in the rain and the heavy traffic? Easily solved! The young daughter helped them load a GPS app onto their smart phone and entered the address so they would have directions to listen to. Finally, we all hurried out in the rain to load the stroller in the back of their van, and they took off on their mission.
One of the great rewards of doing the work we do is that we get to experience people acting unselfishly many times each week. Most of the time it is receiving donations from people who have lost loved ones; in the midst of their loss, they make the effort to come in with their medical equipment and supplies so that they can be used to help others. Sometimes a male visitor to our center steps in to save us time by helping an older woman load equipment into her car. And of course there are the volunteers with their own serious health problems who continue to come in each week to help return phone calls or work on equipment in order that more people might be helped. These are all reasons to be grateful for being blessed to do the work we do!