GiveBIG! is happening May 10th - April 11, 2017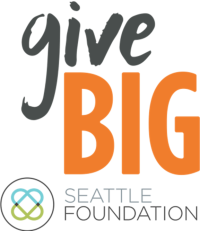 Consider supporting Bridge programs with a table sponsorship during our GiveBIG! campaign on May 10th.
Our Building Bridges Luncheon will be on Thursday, June 8th at Westminster Chapel of Bellevue, and our Building Bridges Auction will be on Saturday, September 23rd, at the Hyatt Regency Bellevue. For both events, we need table sponsors to purchase one or more tables with seating for 8 guests each at the luncheon, and 10 guests each at the auction. We'd love to have you attend and invite guests yourself, or we can fill those seats and list you as sponsor. Sponsors, as individuals, families, or businesses, will also be listed on the program and mentioned in our emails to attendees preceding the event.
There will be a chance to increase your contribution by making the table sponsorship donation during the Seattle Foundation's annual GiveBIG! promotion on May 10th. Seattle Foundation is awarding Dollars for Change to qualifying non-profits that participate in GiveBIG!, which may give Bridge an amount in addition to our donors' gifts.
On May 10th only, you can go to this webpage to leverage your donation with GiveBIG!
https://www.givebigseattle.org/bridge-ministries
OR
This year, for the first time, you can schedule your GiveBIG! donation in advance! Between April 27th and May 9th you can create a simple user account and schedule your donation for May 10th. (Only your name and email are required to create a user account.) You will receive email confirmation when you schedule the donation, and a tax receipt when the transaction processes on May 10th.
Please help support our programs for people with disabilities – make a commitment to be a table sponsor at our luncheon and/or auction with your donation during GiveBIG!
Luncheon
One table of eight: $225
Two tables of eight: $450
Three tables of eight: $675
Auction
One table of ten: $1250
Two tables of ten: $2500
Three tables of ten: $3750
By joining Bridge as a sponsor, you share in the transformation of lives, families and your community where nearly one in five people need caring supportive services such as we provide.