Budget & Annual Reports for Bridge
2016 Budget Overview
The biggest contribution to the Bridge operating budget comes from individual donations. Almost half our money comes from people who donate cash to support our mission.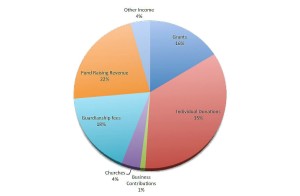 The value of the medical equipment donated to and distributed by Bridge tops $3 million each year.
Thanks to volunteers and church supporters, we serve more than 3,500 people each year with a small paid staff of less than 12 full-time-equivalent employees.
See our 990 form.
2016 Financial Summary

| | |
| --- | --- |
| Revenues | |
| Individual Donations | $ 306,949 |
| Churches | $ 33,906 |
| Grants |  $ 143,606 |
| Guardianship Fees | $ 156,571 |
| Business Contributions | $ 9,405 |
| Fundraising Revenue | $ 195,319 |
| Other Income | $ 37,977 |
| TOTAL Cash Contributions and Other Income | $ 883,733 |
| In-Kind Durable medical Equipment (DME) Donations | $ 3,575,668 |
| TOTAL Cash and DME | $ 4,460,401 |

| | |
| --- | --- |
| Expenses | |
| Administrative | $ 86,950 |
| Fundraising | $ 69,550 |
| Program Expenses |  $ 4,159,788 |
| Spiritual Connections | $ 65,308 |
| Guardianship | $ 276,920 |
| Medical Equipment *including total value of distributed DME | $ 3,817,560 |
| TOTAL Expenses | $ 4,316,288 |
Annual Reports
990s