Building Bridges Luncheon
June 8, 2017 @ 12:00 pm

-

1:30 pm
Event Navigation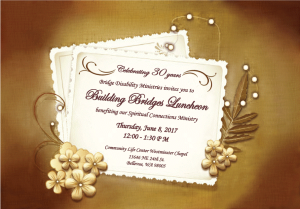 Register here for our Building Bridges Luncheon!
Hear from our guest speaker, Dr. Thomas E. Reynolds
Bridge Disability Ministries' Building Bridges Luncheon celebrates our spiritual connections ministry's belonging initiative: to create spaces for people living with disabilities to connect and form relationships within the Body of Christ. To this end, we have invited a fresh voice concerning the place and presence of people whom the world calls "disabled" in the life of the church.
Dr. Thomas E. Reynolds, associate professor of theology at Emmanuel College in the University of Toronto's School of Theology, will explore a basic question of human existence. Can we find a home with others who recognize us, value us as we are, and empower us to become ourselves? Drawing from Biblical sources, pastoral tools, and personal experience with an adult son with multiple disabilities, Dr. Reynolds will argue that the church must become a redemptive space by empowering those with disabilities to find a welcomed place at its table.
He will extol the power of Christ's being in those the world calls "weak" and "vulnerable," while reminding us that we are all in fact vulnerable and touched by disability, and each of us has gifts to share in the body of Christ. Only in sharing our humanity, including what society might judge to be our "lack of ability," will the church affect the world.
Dr. Reynolds, also a jazz musician, will use the piano to demonstrate how the notion of improvisation relates to building caring relationships and a sense of belonging in communities with people with disabilities.
Dr. Reynolds is the author of Vulnerable Communion: A Theology of Disability and Hospitality (Brazos Press, 2008).
Tickets
$30 per person
$225 for a table of 8